WELCOME

to PlastiClip Products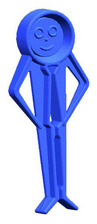 Home to Mr Peg and the peg people. Yes, the funny little clothespeg, the same "little extra" found in SURF laundry powder both in New Zealand and Australia. He's now a fundraising phenomenon helping our kids to a better education. Whether you're teaching children in schools, kindy's, daycare's or coaching them how to play sport, enjoy scouts or socialising in youth group activities at the local church, MR PEG CAN HELP RAISE FUNDS !!!
Our mission is simple. Help kids to get switched on through education.
Mr Peg and the peg people can change the way our kids think.


PlastiClip Products are proudly New Zealand and pride ourselves in providing quality, innovative products. The world has no future if we made a clothespeg that only lasted a season. We say if you have to make a product out of a fossil fuel then MAKE IT TO LAST!! Our outdoors products are tested in the harshest UV climate in the world... right here in clean, green New Zealand. We stand behind all our products.
We have moved premises. To contact us please email Lorraine@plasticlip.co.nz or call Lorraine 027 258 6000 or Alex 0274120 579.